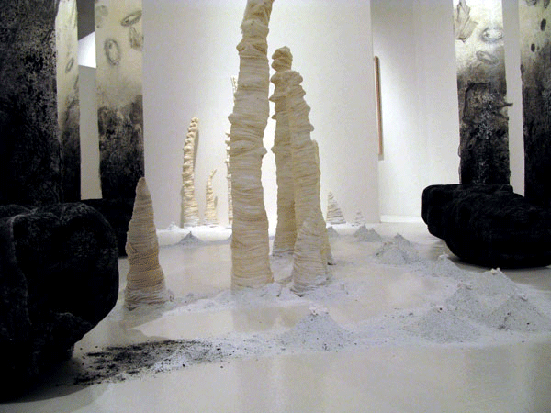 Miya Hannan
Miya Hannan
is represented by R.B.

Stevenson

Gallery, La Jolla, California
Miya Hannan's installations, two-dimensional mixed media works, and sculptures address issues related
to Eastern perceptions of the life cycle. Her work is influenced by Asian rituals, Buddhist philosophy, and cosmology, as well as her experiences as a radiologist. She has had her recent solo exhibition at
R.B. Stevenson Gallery in La Jolla California, also San Diego, Los Angeles, and San Francisco.
Miya Hannan was born and grew up in Japan. There, she received a medical technology degree and
worked for a hospital as a professional for seven years. In 1999, she came to The United States to attend
art schools. Miya Hannan earned her B.A. from San Diego State University in 2004. She was awarded a
M.F.A. Fellowship to study at San Francisco Art Institute from 2005 to 2007, and she received her M.F.A.
from there in 2007.
Miya Hannan currently lives and teaches at colleges in San Diego, California.
Solo Exhibitions:
March 2013

Layers and Missing Link

, R.B. Stevenson Gallery, La Jolla, CA

Jun - Feb 2010

Hyde Art Gallery, El Cajon, CA

Sep - Dec 2010

Frandship Gallery, Japanese Garden, Balboa Park, San Diego, CA

Feb 2009

LA Artcore, los Angeles, CA

Mar - Apr 2008

Circularity, R.B.Stevenson Gallery, San Diego, CA

Sep 2007

Momentum, Gallery 2, Ventura College, Ventura, CA

May 2004

Apples and the Apple, Flor y Canto Gallery, San Diego, CA
Selected Exhibitions:

| | |
| --- | --- |
| Apr 2010 | Silence, Cunning and Exile, Sonoma Valley Museum of Art, Sonoma, CA |
| Sep - Nov 2007 | Paper Cutes 3, Fetterly Gallery, Vallejo, CA |
| Nov 2007 | Artists Go Lightly, Temporary Autonomous Museum(s), San Francisco, CA |
| May 2007 | Master of Fine Arts Graduate Exhibition, San Francisco, CA |
| Jan 2007 | Continuing MFA Show, Rivera Gallery, San Francisco Art Institute, CA |
| Feb 2005 | Life Luggage, Everett Gee Jackson Gallery San Diego, CA |
| May 2003 | Up and Coming, New Paintings, SDSU Community Gallery, San Diego, CA |
| Apr 2001 | Mesa College Student Exhibition, Mesa Collage, San Diego, CA |
| Apr 2000 | Mesa Collage Student Exhibition, Mesa Collage, San Diego, CA |
Collection:
| | |
| --- | --- |
| | R.B. Stevenson Gallery |
| | Private Collector La Jolla, CA |
| | San Diego State University |
Juried Exhibitions:
| | |
| --- | --- |
| April 2007 | 15th Annual Juried Art Exhibition, Korean Cultural Center, Los Angeles, CA |
| | Jurors: Sara Cochran, Curator, Moder and Contamporary Art Dept. of Los Angeles |
| | Country Museum of Art, and Carole Ann Klonarides, Professor, UCLA and Cal Arts. |
| Jan - MArch 2007 | Pro Arts' Juried Annual 2007, Oakland, CA |
| | Juror: Berin Golonu, Curator, Yerba Buena Center for the Arts, San Francisco, CA |
| Feb - March 2007 | Beyond Printmaking 2007, TTU School of Arts Landmark Arts, Lubbock, TX |
| | Juror: Anita Jung, Associate Professor, University of Iowa |
| December 2006 | Brad 35: Art on Paper, Association of Brand Library and Art Center, Glendale, CA |
| November 2006 | Pacific Prints 2006, Pacific Art League, Palo Alto, CA |
| May 2004 | Ink Under Pressure, Orange County Center for Contemporary Art, Santa Ana, CA |
| Feb - March 2004 | San Diego State University Student Exhibition, SDSU, San Diego, CA |
| May 2004 | Emerging Printmakers L.A., Martha Gault Gallery, Slippery Rock University, PA |
| March - April 2003 | San Diego State University Student Exhibition, SDSU, San Diego, CA |
Reviews of Exhibitions:
| | |
| --- | --- |
| April 2008 | Pincus, Robert L. Miya Hannan: Circularity' is a Solid Debut. The San Diego |
| | Union Tribute, Nigth and Day, April 17, 2008. p.25 |
Academic Honors, Awards; Prizes
| | |
| --- | --- |
| Sep 2005 - May 2007 | MFA Fellowship, San Francisco Art Institute, CA |
| Sep 2001 - May 2004 | Summa Cum Laude, San Diego State University, San Diego, CA |
| February 2004 | The SDSU Provost's Award, San Diego State University, San Diego, CA |
| Jan1999 -- May 2001 | Dean's Honor List, Mesa College, San Diego, CA |
Professional Honors, Awards and Prizes
| | |
| --- | --- |
| November 2007 | Third Place, Art Interview, Germany |
| May 2007 | Honorable Mention, Art Interview, Germany |
| December 2006 | Bonese Collins Turner Award, Brand 35, Glendale, CA |
| May 2004 | First Prize, LA Printmaking Society, Los Angeles, CA |